Professional market research can help power your success by creating current intellect about donors, clients, competitors, trends and service outcomes. Research, customized to your specific cause, geographic area and need can put you back in the driver's seat and well ahead of the pack!
Market research is a pragmatic way to assemble information and fill the void between what you know and what you need to know.Market research offers many different approaches, platforms and tools to help you do this.
One critical component of professional research is providing nonprofits with intellect and not just data or good information. Lots of information can be generated with tools like Survey Monkey and Google Analytics. However, the magic happens when information is strategically analyzed to create key insights that actually move the organization forward.
The Fundraising Challenge
Fundraising is time-consuming and most often highly competitive, as demonstrated in the Blackbaud summary below. In addition, providing data to funders on outcomes can be challenging. According to national survey data noted below, only 1 in 4 nonprofits have the resources to effectively measure programs. Research can help.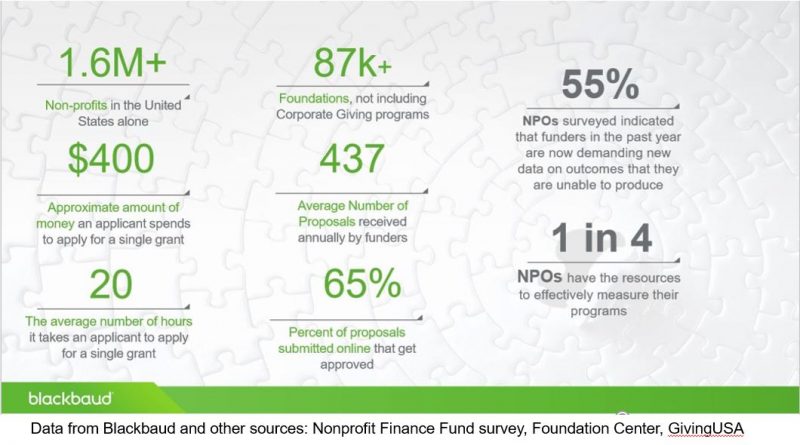 Here are a few ways research can help your agency.
Understand the Who. In order to build and sustain relationships over time, nonprofits need to deeply understand their donors. Why do they give, when do they give, what results do they care about most and why?
Focus on the How. How do your stakeholders want to be nurtured? Do they want face-to-face interaction, quarterly updates, networking events with groups of individual donors or something else? Beyond simple demographics, psychographics can help you segment your donor base and create customized messaging and outreach activities.
Know Your Brand Reputation. What do people know and how do they feel about your nonprofit organization? Who is your competition in their eyes? Research can give you the intellect you need to better reach hearts, heads and hands by customizing your marketing, public relations and social media/content marketing approach.
Understand Your Competitive Positioning. You know what you are saying through your materials, website and outreach. What is more important is what stakeholders are hearing and how you rate versus the competition.
Stay Relevant and Fresh. The only thing you can count on is change. Are you positioned to understand changes in opinions and giving well in advance? Research will help you proactively manage your organization, so you don't have to react.
Market Research Informs and Supports Fundraising and Operational Decision-making
Research can help improve your fundraising efforts by informing and supporting your business case for donors and empowering your organization to make better decisions.
What makes your nonprofit a great investment?
You can increase success by using market research to conduct outcomes measurement and demonstrate community needs. Additionally, by assembling donor research and competitive research, nonprofits can develop customized strategies, positioning, messaging and campaign communications that move donors to action.
Market Research Approaches and Tools
Community Needs Assessment
Every community is different. Given this, funders try to respond to unmet needs that are aligned with their mission, values, interests, and passion. Savvy organizations focus on staying in tune to the needs of their community today and tomorrow.
An example is one local nonprofit which chose to increase their success by using research to better understand their positioning and to demonstrate their attractiveness to donors. They did so by having us:
Analyze census data in key counties to forecast a special population and their needs for services in a relevant geography
Conduct a Community Needs Survey by phone and online to understand the needs of clients and potential clients: current life situation, scale and priority of needs, past training or other services received, needs for future services, challenges in receiving services and demographic data
Assess provision of services from others – other nonprofits, government agencies, for-profit providers, etc.to determine service gaps
Donor Surveys
Understanding your donors on an in-depth level allows you to better identify market segments, prioritize fundraising and customize the way you communicate with them about your agency. Overtime you can build strong relationships and become the "preferred" organization for their charitable giving.
It can be helpful to learn how many touch points are needed annually by specific donors to continue to engage their interest and contributions.
Outcomes-based Program Evaluation
Program evaluation is important to analyze program efficiency and effectiveness and to make agency program improvements with higher impact.
In addition, as you prepare your business case for contributions, research can help measure outcomes in the three right-hand columns of the logic model below:
Short-term outcomes
Desired impact
Vision and impact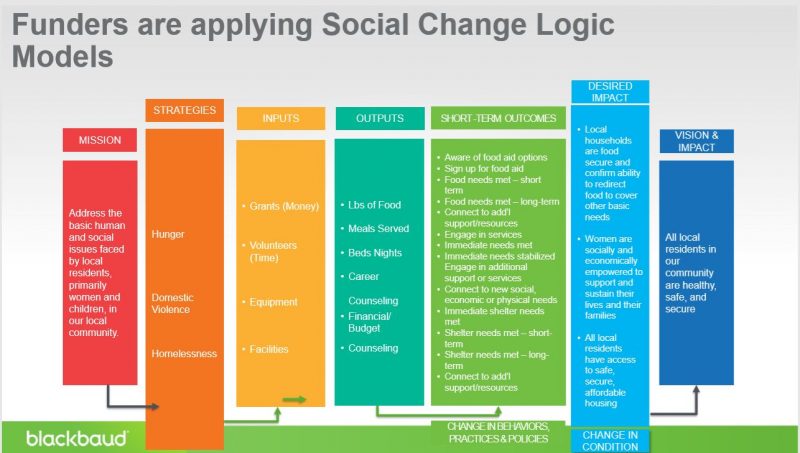 Client Satisfaction Surveys
Such surveys are critical to the ongoing success of all organizations.These tools monitor whether the agency is providing clients with positive experiences and services that meet their needs. Strategic4sight has a variety of options that allow agencies to monitor the satisfaction level of their constituencies.
For example, one of our nonprofit clients with more than 40 years of service experience was considering whether and how to continue future services. By developing their first client survey, we found that 98% would recommend the agency to a friend or family member and 90% planned to send their child back the next year. These customer responses made the decision to continue and grow their services far easier. In addition, individual comments about why the children, young people and parents loved participating made for powerful website testimonials and social media examples.
Competitive Assessment
Nonprofits often focus on cooperating with other nonprofits- sharing resources and collaborating to provide services. So, the concept of competition may seem foreign. However, many nonprofits address similar needs, geographic areas and clients/customers in their communities and major donors often come down to choosing among a handful of organizations for a given grant. It can be invaluable to understand which organizations are likely seen by funders as your competitors and how they are positioning and selling themselves (even though you don't need to treat them like competitors).
Given this, savvy organizations monitor their competitive landscape to make sure their programs and services are seen as valuable and unique among key donors.
Conclusion
Actionable market research can boost the effectiveness and success of your organization's fundraising and operational decision-making. As seasoned researchers, we can create customized approaches that fit into your timelines and budgets, while delivering the key insights needed to move your agency forward.