Advance your mission and create financial sustainability through a market-driven approach.
How can you sustain the mission of your organization?
How can you create social and environmental impact through your products and services?
How can you address basic unmet needs?
How can you employ people who have significant barriers to employment?
Social Enterprise can address these issues and be a significant complement to your present organization's activities. The national Social Enterprise Alliance defines Social Enterprise as:
"Organizations that address a basic unmet need or solve a social problem through a market-driven approach."
Social Enterprises promise to realize profits, social impact, and environmental sustainability, creating an authentic "triple-bottom-line" organization. Sometimes referred to as mission-driven, earned income program or socially innovative, they are a business whose primary purpose is the common good.
They fit categorically between a purely philanthropic organization on one end of the continuum and a purely commercial organization on the other end: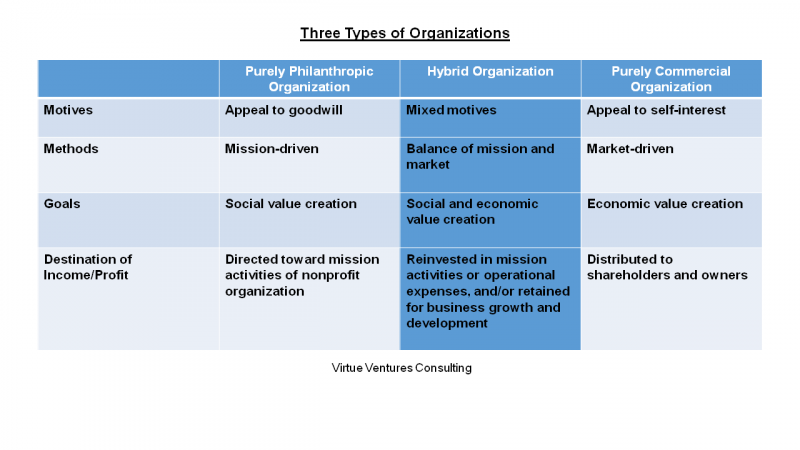 Criteria for a Social Enterprise
– typically meet two or three of the following characteristics:
Products and/or Services – Purposefully deliver a product and/or service with social or environmental benefits to customers/clients.
Operations – Make a social or environmental impact through operations (e.g., by hiring or purchasing from those from low economic circumstances or with disabilities).
Profit Use – Earn profits for the primary purpose of funding the nonprofit cause(e.g., by supplying a portion of earned income to support the work of a nonprofit).
Social Enterprise Examples
Here's a common nonprofit fundraising example, which actually matches the above criteria for a social enterprise and provides sustainability for the Girl Scouts nationally.
Products – Cookies can be a social good! Even if you feel it's a reach to meet this social enterprise test, cookie sales meet the other two.
Operations – Through this program young women learn selling, self-confidence, public speaking, budgeting, philanthropy and business. It's an important part of the Character, Courage, and Career-building that the Girl Scouts provide.
Profit Use – 85% of the families of Girl Scouts are from middle and lower economic circumstances, and the cookie program funds local troop uniforms and personal development programs.
Other examples:
Café Momentum, Dallas, Texas – Restaurant that offers culinary, job, and life-skills training for at-risk youth.
Bell Tower Chapel of ACH Child and Family Services, Fort Worth, Texas – A gift of a church and land has been transformed into a wedding chapel and wedding services.
Catholic Charities of Fort Worth – Now the leading provider of translation and interpretation services in Dallas Fort Worth, it provides access to health care, immigration and social services, education, and legal support.
UAPO Akola Project – Each piece of jewelry is made by women in poverty in Uganda or Dallas and 100% of the proceeds go back to transform their lives.
Strategic4sight's Market-Driven Approach to Unmet Needs
Strategic4sight uses methods and disciplines of business and the power of the marketplace to advance a social, education, environmental, or other charitable cause.We provide a range of services to support Social Enterprise development and success:
Business Plan

Analyze the situation/problem, industry trends, market and resources to formulate a strategy that will seize product/service opportunities and address obstacles
Plan the execution of the new strategy with associated goals and metrics, business model, a plan to enter the market, identify stakeholder benefits, assess pricing strategies, develop a financial pro forma, advise on staffing and a growth plan

Funding Plan

Create a funding plan based on interested donors, investors and earned
income strategies to enable execution of the new business plan

Marketing Plan

Identify unmet needs, demands, options, and capabilities that can be leveraged to produce and sell products/services; identify and assess competitors
Develop value propositions, a marketing plan to support market entry and reach potential customers, develop a brand strategy and marketing objectives, strategies and tactics to successfully sell the products/services and achieve business objectives
Option to develop commercial launch communications and initial marketing tools
The Value of a Social Enterprise for Your Organization
Advance the mission of the organization by expanding the service of unmet needs
Create employment opportunities as part of the mission and part of the operations
Realize economic value that can be reinvested in the mission
Create a sustaining organization that satisfies the common good.